Gerrit Jan Gerritsma
After completing my studies for Doctor of Medicine, I took various courses in Ayurveda for physicians. I worked for ten years as a Maharishi Ayurveda physician in various spa resorts in Germany and Austria. During this time I have worked frequently with well-known Indian Ayurveda physicians, which was of enormous benefit to me and deepened my knowledge. In 2004 I completed the ABNG-2000 course (Physicians Association for Organic and Natural medicine) and I started an independent practice in Maharishi Ayurveda and Natural Medicine in Lelystad. I work closely with the Maharishi Ayurveda Health Centre.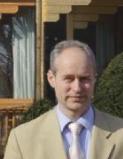 Professional bodies: AVIG (Physicians' Association for Integrative Medicine) and the German Association for Ayurveda.
Furthermore, I am a faculty member of the Maharishi University of Vedic Medicine which organises courses for physicians.
Complete, simple and profound
When I learned about Maharishi Ayurveda during my studies, I became enthusiastic about the holistic approach this treatment method. It acknowledges the interaction between health, emotions, thoughts, climate and environment and takes all these factors into account to achieve total health. This connectedness is something my conventional course lacked.
However, the knowledge and skills from university medicine are essential. In real terms, Maharishi Ayurveda, Natural Medicine, Orthomolecular Medicine and Western Medicine are a beautiful combination. Integrative Medicine entails treatment methods which connect and integrate body, mind and soul.